LASER

BIO

 IN PERIODONTOLOGY
One of the biggest enemies of oral health is periodontal diseases. With double-wavelength lasers (WPT), we can perform advanced treatments without surgery by eliminating the factors that disrupt the biology of tissue. Don't neglect your dental health by postponing your treatments and save your teeth.
WPT Periodontal Treatment
WPT Periodontal Treatment gives general dentists the confidence to treat their patents' moderate-to-severe periodontal disease the most effective way possible, without scalpels and sutures.
LASER BIO PERIODONTOLOGY
The use of lasers to clean the root surface of the invisible area provides excellent results for biologically regenerating tissue.
There are basically two types of bone loss.
1) Subgingival Curratage: In the case of periodontitis patients have bone loss and pockets under their gums and  eliminating of these pockets is essantial for treating periodontitis. In conventional way dentists use hand instruments to currete the root surface and the infected gum pockets. This mechanic cleaning can cause gingival recessions after treatment due to size of the dental instruments. Thanks to unique form of the tip of Fotona Er: YAG laser the patients are protected from this mechanical trauma so patient will have less gingival recessions compared to mechanical cleanings. Fotona laser prevents infection and reduces pocket depths after treatments.
2) WPT: Conventional treatments of periodontal diseases can cause ginigival receessions due to traumatic effects of hand instruments and open surgical procedures (such as flap surgery) . Usually patients undergo surgical procedures when they have severe periodontal problems and leave the clinic with stures. For treating periodontal disease, Fotona's TwinLight® Periodontal Treatment (TPT) is a comprehensive and minimally invasive periodontal therapy incorporating the power of dentistry's two most effective laser wavelengths: Er:YAG and Nd:YAG. The TwinLight® approach enables wavelength-optimized treatments for periodontal therapy (such as WPT™), which create the optimal conditions for healing periodontal tissues. What's more, TPT prevents infection and promotes reduction in pocket depths.
WPT Periodontal Treatment gives general dentists the confidence to treat their patents' moderate-to-severe periodontal disease the most effective way possible, without scalpels and sutures. Thanks to WPT tissues are protected from mechanical trauma of dental instruments so patients will have less gingival reccession after periodontal treatments and they will have more comfortable time in the chair.
Laser Bio in Periodontology
Laser is the acronym of the words "Light Amplification by Stimulated Emission of Radiation". The pathogenesis of periodontal disease and the methods of treating it have undergone radical changes in the past 30 years.
The current model for periodontal disease includes microbial components, host inflammatory responses, and host risk factors that contribute to the advancement of this disease. Soft tissue lasers are a good choice for bacterial reduction and coagulation in the treatment sequence.
These properties of the soft tissue lasers make them an excellent choice to use in a periodontally involved sulcus that has dark inflamed tissue and pigmented bacteria.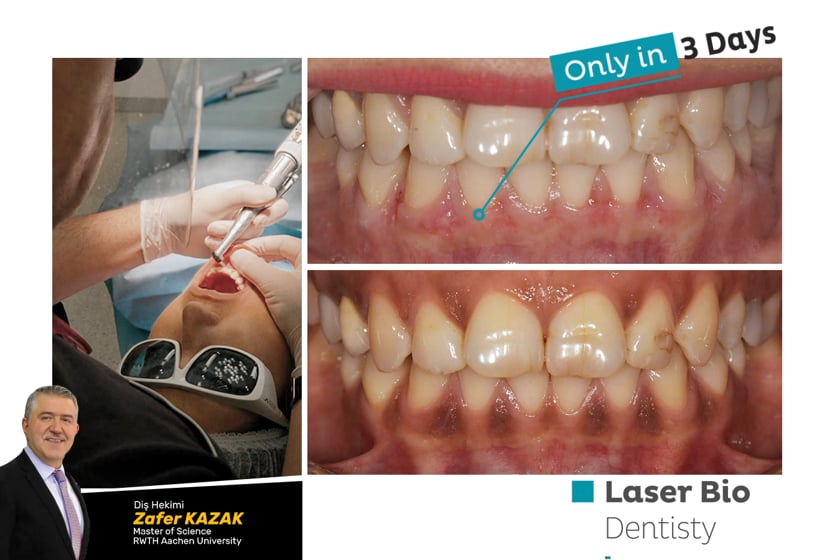 What are the advantages of using laser in the periodontal treatments compared with traditional treatment methods for periodontal disease?
For those patients who require surgical treatment of periodontal disease, to create access for root debridement, reducing/abolishing periodontal pockets and tissue regeneration facilitation, laser protocol benefits compared with conventional periodontal surgery procedures includes:
Shorter treatment time.
Minimal discomfort and most of the time no pain post-surgery .
No post-surgery bleeding, no swelling or bruising, fast recovery for the patient (doesn't have to interrupt socio-professional activities).
No retraction or minimum retraction of soft tissues (gingival recession).
No post-treatment dental sensibility.
No cosmetic change in the patient's smile (retraction, burned gums, etc.).
Final result, meaning pocket depth reduction – comparable with the result of classic and more aggressive procedures (surgical).
The use of surgical lasers has been advocated to aid in the placement and second stage recovery of dental implants, together with soft tissue contouring. In addition, laser use has been suggested as an aid in decontamination of the implant surface in cases of peri-implantitis. In endodontics, the association of laser energy with dentine hypersensitivity, bacteriocidal action and pulp-capping, has led to a growing number of reports as to its beneficial use, together with claims of morphological changes in the canal wall, to enhance endodontic treatment success.
Laser Dentistry
Laser offers very effective and rapid recovery in gingival shaping processes. The visibility of the gingiva is part of our smile and should be in harmony with the lips and teeth. Our smile is one of the most characteristic features of our personality. By getting a smile that is compatible with your face character, smile and lips with digital smile design, you can smile happily for life. A fast and comfortable biological healing is very important in aesthetic treatments such as smile design. Shaping of the gingiva with Fotona laser systems can be done without any pain and bleeding by applying minimum anesthesia. The healing is fast and comfortable, as the laser activates the healing of the tissue biologically.